Bear aka Fluffy – $35,000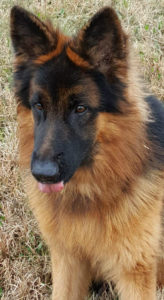 This big boy is a magnificent long coated black and tan. He's a 2 year old German Shepherd with an outstanding pedigree stacked with showline champions.
Bear is really outgoing and excellent with kids, but don't be fooled. When it's time to have your family's back, our playful Fluffy will switch gears and turn into Bear mode.
He'll put the fear of eternal damnation in any threat to you and/or your loved ones. This lovable guy is the total package and a perfect first time family protection dog. He'll play fetch with the kids all day long, or just chill quietly inside the house.
Take him with you in the car and you'll know you will be safe with his 90 + pounds of hard hitting training.
Bear loves his toys and is playful most of the time, but God help the person that threatens you or your family.
As a trademark of our quality, and for your peace of mind, all our dogs come both on and off leash trained. What are you waiting for?
Contact us today @ 301-346-7403
Click here to go back to the Our Dogs page