Nitro – $20,000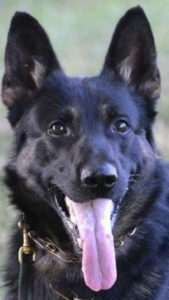 His name says it all. He's extremely energetic and can play all day.
He has a great on and off switch which makes him a perfect personal protection dog. One command and he will raise hell and another one, he'll just lay down like nothing happened.
He's housebroken, and crate trained.
Nitro travels so well in the car that we had to stop to make sure he was alive. Hahaha.
But when we stopped at a red light and a homeless person approached the car, we realized quickly that this boy can light up in a hurry. Needless to say we didn't get asked for money.
Nitro has been trained in German which can be an asset because a lot of people won't be able to give him orders. That being said, we can switch him to English within a couple of weeks.
He is a well rounded dog and carries 75 pounds of confidence. He's definitely an able companion when you are driving alone in the middle of the night.
Want to know more about Nitro?
Just contact us @ 301-346-7403
Click here to go back to Our Dogs page